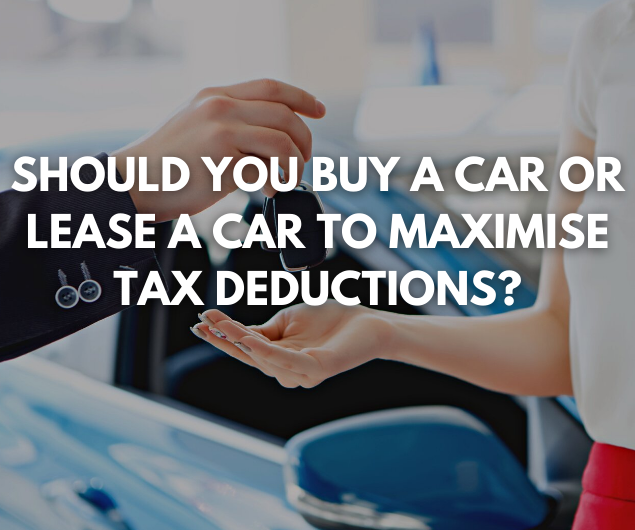 When you go to Buy a Car, you get presented with various financing options with many car dealerships offering different promotions.
And purchasing a vehicle is a big investment and you want to make sure you are doing this correctly.
If you finance the purchase of your vehicle, the business portion of the interest expense can also be deductible. As you can also deduct the business portion of your auto lease payment or auto depreciation, many realtors often ask the question, " – Should I lease a vehicle, or should I buy?"
Here is a video for those of you asking yourselves this question.
To Buy a Car or Lease a Car?
Simply put, There is no one size fits all kind of answer. Every deal is different.
Often, you are offered a different deal (set of pricing and rates) when you lease/finance the purchase, as opposed to buying it outright; The pricing is generally higher when leasing a car than buying outright. You usually get a cash discount if you buy the car without financing.
Also, when you lease, the calculation can be drastically different within that, depending on a high mileage lease vs a low mileage one.
The buyback value at the end of the lease term can affect the monthly calculation as well.
You can also choose to buy a car outright with your line of credit – which is with another set of calculations.
So next time when you ask your accountant, "should I buy?, or should I lease?", you can see how complicated it is to come up with a one size fits all kind of answer..
It's not an easy calculation to see which one will provide a better deal at the end of the day.
Therefore, every deal is different, and every individual's needs and circumstances are different.
It's mostly a financial decision, rather than a tax one.
Nonetheless, I'm going to explain the possible tax deductions of both buying vs leasing when purchasing a vehicle.
What are the tax deductions if you buy a car?
Similar to all capital assets, you are allowed to deduct the capital cost allowance (CCA), which is the tax term for wear and tear, on the car.
Income Tax Act allows you to claim up to $30K plus HST on a passenger vehicle purchased.
You can spend over $130K on Tesla's Model S, but you get to claim only $30K plus HST. There is a CAP on what you can claim.
To explain the tax deductions to buy a car, I'm going to use my Honda Odyssey as an example for the analysis.
Purchase price of a Honda Odyssey = 38K (approx) + HST
This vehicle belongs to class 10.1 and 30% depreciation rate can be applied to the purchase cost (maximum $30K plus HST) or undepreciated balance annually.
Let's assume that you use the vehicle 100% business use for simplicity. (Generally speaking, you need a logbook to document your business-use mileage to prorate for business use. you can find out more about the documentation required from this previous post ).
So,
Year 1 – you can get a deduction of $30K x 1.13 x 30% x ½ = $5,085
(½ year rule does not apply until 2024)
Year 2 – you get a full deduction
($33,900 – $5,085) x 30% = $8,645
Year 3 – deduction is calculated on the undepreciated amount
($33,900 – $5,085 – $8,645) x 30% = $6,054
Year 4
$ 4,236
As you can see, you get a larger deduction at the beginning when you first purchase the vehicle. Deduction available gradually goes down as years pass.
What are the tax deductions if I lease / finance a car?
When you are leasing a vehicle, CRA also imposes a cap on the maximum amount of monthly lease payment you can deduct. Currently, that is $900 plus HST as of January 2022
Just because your lease is less than $900, it does not mean that you can get the full deduction. A complicated formula is used to determine the maximum eligible leasing cost that can be deducted on an annual basis.
Here's the CRA's website link to the calculation
My monthly lease payment is $592.50 taxes included.
Keep in mind the interest rate is 4.99% on the lease and I have a high buyback value of $19,500.
Year 1 deduction
(assume only 6 months similar to the case above) – $3,555
Year 2 deduction
$592.50 x 12 months
= $7,110
Year 3 deduction
= $7,110
Year 4 deduction
= $7,110
Year 5 deduction
= $3,555 (last year of the lease) and you likely will lease another vehicle or buy out the current car or get a different car.
The chart below summarizes the buying vs leasing deductions, and it's potential tax savings (if your rate is at 50%).
From a tax perspective, the tax deductions between buying and leasing are very similar. Buying allows you to take bigger deductions at the beginning of the ownership, whereas leasing means that you have a straight line deduction during the lease period.
You may think it is more beneficial to lease, but…
Don't forget that I pay 4.99% interest on my lease, which is translated to $5,638 for the entire term for 4 years.
You wouldn't have this cost incurred if you were buying it outright.
What if it is a zero % interest rate?
Yep – buying gives a slight edge in my Honda Odyssey calculation.
If the lease rate is 0% which will not happen, you will have a tax saving of $9,765, less beneficial than buying. (See chart below)
From the math analytics above, buying allows you to deduct more at the beginning, whereas lease deduction is smooth out over time.
It's hard to come up with a pure apple to apple comparison given that interest rate and buyback value have a significant impact on the calculation.
What if I use my vehicle for both my self-employed business and my rental properties?
If you drive the same car for your agent business and your rental properties, you are eligible to deduct the business portion for car expenses against your agent business income and the rental portion against your rental properties portfolio.
Say in year 1, you drive 5,000 km for your self-employed business and 3,000 km for your rental properties.
If you purchased the minivan, you can deduct Capital Cost Allowance (CCA) of $10,170 x 5,000km / 10,000km = $5,085 for your agent business.
You can also deduct an additional CCA of $10,170 x 3,000km / 10,000km = $3,051 against your rental properties income.
Administratively, you are required to record the mileage seperately. pecifically used for your business, and the mileage specifically used for your rental properties separately.
Other considerations
What if you are a realtor driving your car from Barrie to St Catharine's multiple times a week? You will have high mileage on the vehicle which generally is not suitable for leasing.
What if you know that the cost of maintenance is high, but you still want to drive the car when it's new?
Certain European cars are well known to have high maintenance cost around the expiry of manufacturer warranty. He loves the car, but he doesn't want to keep it long term, better lease it and not to worry about the long-term maintenance cost.
You can sell the car at the end if you don't like, but you can't sell a leased vehicle.
Do you own your business in your personal name or corporation? If you own your business in a corporation, driving an old car would still allow you the same mileage deduction at $0.59/km for the first 5,000km and $0.53/km thereafter.
If you don't need to incur the cost to buy a new car, why bother?
Until next time, happy Canadian Real Estate Investing.
Cherry Chan, CPA, CA
Your Real Estate Accountant