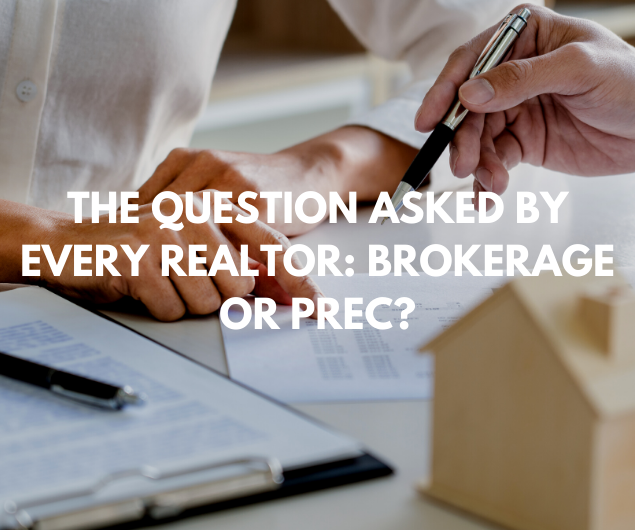 As a Realtor is brokerage for you? Or is PREC your best bet?
All ambitious realtors planning to take their businesses to the next level struggle with this question.
These realtors already have a system running to generate consistent leads. They hire showing/buying/listing realtors and have a team building their empire.
And some realtors prefer to set up a brokerage to keep the entire team's revenue in-house (I set up my mini-brokerage for tax purposes). Whereas others prefer setting up a personal real estate corporation (PREC).
The process of setting up a brokerage for a realtor can be pretty cumbersome. A brokerage is required by law to have a Broker of Record. To become a broker of record, one must be holding the broker license. In Ontario, to become a real estate broker, on top of the brokerage course, you also need to take two additional elective courses. It can be quite time consuming to complete all necessary education to obtain your broker license.
Is there any significant difference between setting up a PREC or a Brokerage
Absolutely! Below is a high-level business analysis of setting up a PREC or a brokerage.
When I talk about the benefits of operating a brokerage, it is important to note the limitations of operating as a Personal Real Estate Corporation as well.
Conversely, when I talk about the downsides of setting up a sub-brokerage, it is important to note the benefits of a Personal Real Estate Corporation.
Benefits of setting up a brokerage as a Realtor:
The entire realtor team's earnings are reported in one corporation. As a result, it's easier for you to analyze the team's performance as a whole.
Recording the team's performance in one entity makes the business more saleable. Without a brokerage, you have to show the T4A of individual team members to support the sales number. Buyers may not place the same level of trust in sales figures.
Easier to sell. Selling an individual team is generally more complex than selling a brokerage.
If you eventually plan to sell the entire team/brokerage, you can choose to sell shares.
By selling shares to a third party, you can potentially qualify for Lifetime Capital Gain Exemption for upto $892K in 2021. This means that you can make $892K tax free. Provided that the brokerage complies with the requirement as Qualified Small Business Shares and not pay any taxes.
Opportunity to have a different ownership structure:
PREC requires that the realtor is the controlling shareholder who owns 100% of the equity shares of the corporation. A brokerage does not require this. This means that your family members can also own equity shares of the brokerage. You can even set up a family trust to own shares.
If you sell your brokerage's shares, your family members, who are also shareholders of the brokerage or beneficiaries of the family trust who owns shares, can also enjoy their Lifetime Capital Tax Exemption. So, you get to save even more tax when it comes down to selling the business.
Downsides of setting up a brokerage as a Realtor:
In Toronto, if your brokerage needs to register with the board, you have to pay a one-time registration fee of over $5K.
If you choose to operate as a franchise, such as Remax, Keller Williams, Coldwell Banker, you are required to pay franchise fees to use their name to market your business. This can be in the form of a one time payment or multiple payments .
On top of the one-time franchise fee, you may need to make an annual contribution to the franchisor as a brokerage.
You will also incur additional legal/accounting fees to review the franchise agreement at the initial setup.
In Ontario, RECO requires that you have a unique address for your brokerage. You will need to rent a space for registration purposes.
In Ontario, many brokerages use a system called Lonewolf to run their brokerage businesses. The cost of purchasing and maintaining systems can be high initially.
The brokerage needs to take care of the reconciliation of the commission trust account and client deposit trust account. These accounts must be reconciled monthly.
More administrative effort:
A 'Broker of record' typically gets involved when the realtors have conflicts or complicated deals.
If you set up a sub-brokerage, you are the broker of record. Therefore, you will likely have to handle any conflicts, complaints, etc.
RECO may require the broker of record to attend mandatory training as well. Especially if the realtors breach any code of conduct.
Nevertheless, it is not all black and white.
We are here to help you navigate the pros and cons of each option. So that you get to make the most informed decision based on your goals.
Book a consultation with us at RealtorTaxTips.ca today! We're here to help you realtors decide if you should set up a PREC vs. Brokerage.
Until next time, happy Canadian Real Estate Investing.
Cherry Chan, CPA, CA
Your Real Estate Accountant