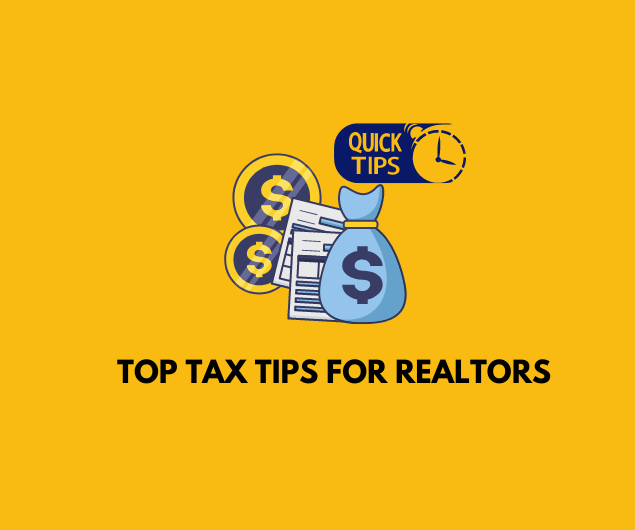 "What are some of the Top Realtor Tax Deduction Tips?", is one of the most commonly asked questions I get.
A while ago I was a guest on a TREBB (Toronto Regional Real Estate Board) podcast called "Ready to Real Estate", where I shared some of the top tax tips realtors shouldn't miss.
You can also listen to my podcast here.
Biggest tax deduction tip that realtors often miss on
The funny part is that it wasn't really a big tax deduction tip. Rather, the biggest tip is understanding the general tax deductibility rule.
The Income Tax Act allows you to deduct all reasonable expenses that you incur, for the purpose of earning business income or property income, subject to a bunch of exceptions.
What this means is that, as long as you are able to establish the cause and effect relationship that there is a reason for incurring the expense to earn the income, then you might have a chance to get a deduction.
This applies to all your business expenses, from advertising, website, paid Facebook ad, RECO insurance, board membership fees, desk fees, staging costs, signage, automobile, accounting fees, assistant fees, etc. all tax deductible.
To find out more about realtor tax deductions, you can refer to this video and post that I did – Top ten tax deductions you shouldn't miss as a realtor,
Understanding the general deductibility rule is a good start, as a real estate agent, you're also required to keep all your receipts to support your deduction.
For instance, if you take your clients out for a meal and eat out, you should keep the receipt. Why, you ask? Because, if there are no receipts, there's no deduction. If you ever get audited and you are claiming a deduction on something that you are missing a receipt on, unfortunately, you will get this disallowed.
Little did many Canadian real estate agents know, bank statements, visa statements, credit card statements in general, they're not sufficient support for your deduction of an expense. Whether you have truly incurred the expense or not, those are not sufficient documents in the eyes of CRA.
Let's say you take a client out and paid for the $200 bill using a credit card. The $200 transaction shown on your visa statement would not qualify as enough evidence to support your claim. You would need to keep the original invoice, the one that shows the breakdown of the meal, and the credit card receipt, the one that shows the tip you pay. You actually need to prove who went there and what kind of food was ordered, or the type of drinks that you were ordered. You would also need to write down the name of your client on the receipt.
Keep the receipts, even if not all of them are 100% tax deductible. You can even take a picture of the receipts and store them as a soft copy on your phones or laptops, if you prefer not to store all the paper copies.
Now, these are the three golden rules and one of the biggest realtor tax deduction tip, a realtor often misses:
You are eligible to deduct all reasonable expenses that you incur for the purpose of earning your business income, so long as you can establish cause and effect relationship between incurring the expenses and earning your income;
Keep the receipts and proper documentation to prove the cause and effect relationship; and
Bank statements and credit card statements are NOT sufficient to support your deduction if CRA ever audits you.
Top Tax Saving Strategy for Realtors, Real Estate Agents and Teams
The biggest tax deferral strategy we have done for realtors is setting up a personal real estate corporation.
I've seen our clients saving tens of thousands of dollars by operating their businesses from a PREC. I've also seen them using the excess cash available in the corporation to invest in more properties and reinvest in their businesses.
Every realtor, real estate agent or brokers' situation is different. The decision to decide whether a PREC is for you or not is not only in one's business, but in fact more about their personal spending.
For real estate agents who are full time in the business, we need to look at how much they normally net, after paying for all the business expenses. We compared that amount to how much they need for their personal needs, so that we can decide whether corporations are suitable for their needs.
For realtors who are working part time in the business while having a full-time job, again, we need to look at the base salary from employment, together with the amount they need for their personal need, to determine whether a PREC would be beneficial.
Again, everyone's situation is different but guess what, Personal Real Estate Corporation can potentially defer tons of taxes.
We've covered quite a bit at the Toronto Region Real Estate Board podcast. Make sure you listen to it to discover the many tax tips I have disclosed.
Until next time, keep crushing it.
Cherry Chan, CPA, CA
Canadian Real Estate Agent Accountant