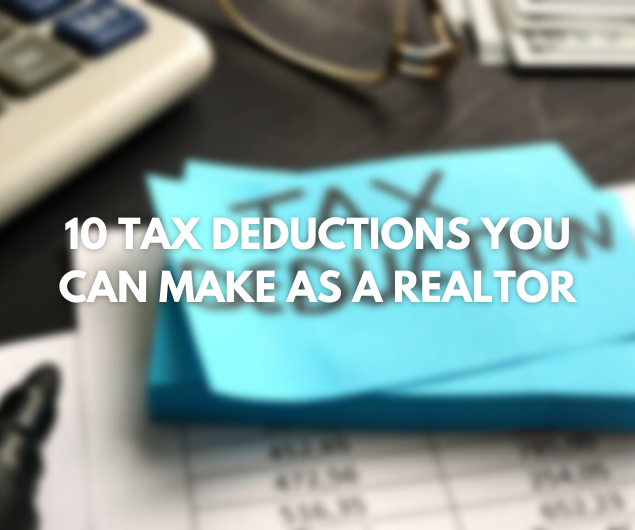 What tax deductions can you make as a Realtor? To understand Realtor Taxes we need to understand how realtors are categorized. Realtors, like many other professionals, can own their businesses or be hired as employees.
When you are an independent realtor, you are operating a business. Operating a business means that you are allowed to deduct all reasonable expenses incurred for the purpose of earning the income, subject to some exceptions.
Tax deductions "general deductibility" rule
Canadian Income Tax Act allows Canadian taxpayers to deduct reasonable expenses incurred for the purpose of earning business or property income, subject to a bunch of exceptions of course. This means that as long as you're able to establish the cause-and-effect relationship between incurring the expenses and earning the particular stream of income, you can potentially deduct the expense.
Next time, when you are incurring an expense which helps you earn property income,keep the receipt.
If you are unsure whether you can deduct certain types of expenses, compile all your receipts and at year-end have a conversation with your real estate tax accountant. They will be able to tell you if you can deduct these expenses, just as I advise my clients.
Earning your tax deductions
I always say that in Canada, you gotta earn your deduction. This means that, as a minimum, you need to keep receipts to support your expense deduction.
If you give a cash rebate to your client for a successful deal, document the name of the client, the address of the completed deal, and provide proof of payment. These are the details that CRA is looking for.
As a word of caution, credit card statements and bank statements are generally not sufficient to substantiate your claim.
I talk about this and the 10 basic tax deductions you can make in this weeks video here
Top 10 tax deductions for realtors when filing realtor taxes
As a realtor, you incur many different types of expenses to generate income. As mentioned before, the key to tax deductions is to establish a cause and effect relationship and you will be able to get some sort of deduction.
Some tax deductions realtors can submit
1. Meals & entertainment
To qualify for tax deduction (even 50% deduction), you're required to incur the expense for the purpose of earning the business income.
So, if you take your clients out for lunch, that can be a deductible meal. However, if you take your parents out for lunch and they are not your clients, that lunch is not a deductible expense.
My book "Complete Taxation Guide for Canadian Real Estate Agents" here, explains this to you in more detail, giving you the best tips along the way!
2. Advertising/Staging costs
Any advertising costs incurred for the purpose of earning your business income and bringing in leads are tax deductible.
This includes your website cost, website developer cost, hosting fees, web design cost, Facebook, Youtube, Google, Instagram and even Linkedin advertising fees.
But make sure you have a conversation with your accountant who understands your individual situation as a realtor.
3. Insurance
Insurance expense is tax deductible. If you have your own office space, you might also need to carry general liability insurance, which is also tax deductible.
4. Brokerage fees and other related charges
Fees you pay to your brokerage to maintain your license are deductible. Typical charges include desk fees, transaction fees, split of commission, franchise fees, office administration charges, etc.
5. Professional dues and Memberships
Professional dues and memberships include fees you pay to your board, license fees with the real estate governing body, and other professional memberships.
6. Client rebates
Client rebates, common in the real estate business like all other expenses, incur for the purpose of earning the real estate agents income. It is a way to secure business, and sometimes it is a way to say thank you to our clients.
My book shows realtors the 2 different ways to issue a client rebate.
7. Referral fees
From the Income Tax perspective, as long as the expense incurs for the purpose of earning the commission income, you're eligible to deduct the expense (subject to some exceptions). Referral fees are not part of the exception.
8. Coaching, education, and conferences
Coaching costs are tax deductible expenses. Provided that they incur for the purpose of helping you improve your business income.
9. Client gifts/Gift cards
As a realtor you can file your client gifts/gift cards as tax deductions… if you can tie the client gifts to your commission income. Client gifts can include appliances. Make sure you purchase the proper gift cards to get the best deduction for your money. You can always read more in my book or schedule a consultation. Just make sure you talk to an accountant if you're not sure the expense is deductible!
10. Subcontractors Assistants and Salaried Employees
My understanding from working with many realtors is that hiring an assistant can help you propel your business significantly. I witnessed it first hand how my husband's assistant helped him grow his team from two agents to four agents.
From a tax and legal perspective, you can hire an assistant as an employee, or as a subcontractor.
Hiring your assistant as a subcontractor loosely means that you're hiring another business to do the work for you.
Hiring someone as an employee means that you have someone full time dedicated to help your business.
Additonal tax deductions …
11. Home office expense
You are eligible to deduct home office expenses as long as you meet one of the criteria below:
Your home office is the principal place of business; or
You use the space exclusively to earn business income and you use it on a regular and ongoing basis to meet your clients, customers, or patients
Now, let's assume you qualify with one of the criterias listed above. What can you deduct?
You can deduct the following expenses:
Maintenance costs such as heat, home insurance, electricity, and cleaning materials.
Property taxes
Mortgage Interest
Home internet
Repairs
Capital cost allowance
If you rent, you can deduct rent.
You can deduct part of the expenses that are related to running your business. This can be calculated based on the size of your home office in relation to the size of your home.
12. Automobile expense
Deducting business use of automobile expense is allowed and often one of the most overlooked deductions.
To properly count automobile expenses as tax deductible, the first thing you need to keep is an autolog.
It is a lot of work to set it up right, but once set up and there is no substantial change in your business usage, you may be able to keep a smaller logbook in subsequent years.
Deductible automobile expense
In addition to your mileage expenses, you can deduct the following automobile expenses:
Fuel and oil
Interest
Insurance
License and registration
Maintenance and repairs
Any other expenses that are directly related to operating your vehicle (I usually include my 407ETR bill as other expenses)
Lease payment or capital cost allowance
The total of these expenses is then prorated based on the business use mileage or rental use mileage for deduction purposes.
To sum it up, the tax deductions you can make as a realtor depends on the different types of expenses used to generate income. Establish a cause and effect relationship and you will be able to get some sort of deduction.
Until next time,
Happy Canadian Real Estate Investing.
Cherry Chan, CPA, CA Your Real Estate Accountant