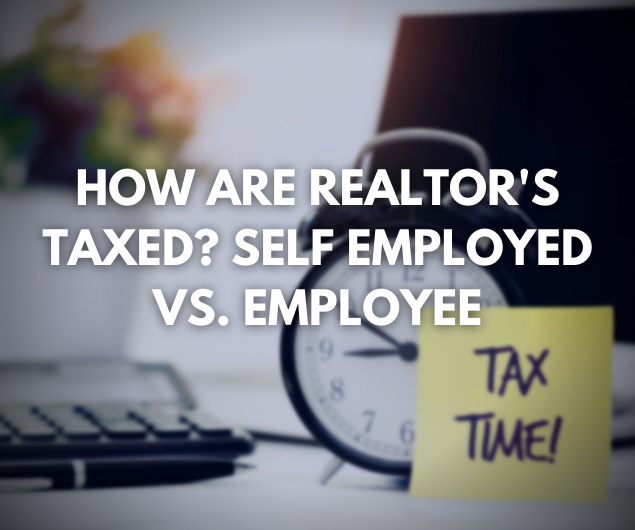 A Realtor's tax is often determined by his/her employment category. Realtors, like many other professionals, can either own their businesses or be employees. The language used in the legislation governing real estate trading activities can be quite confusing. It sometimes refers to the self-employed realtors as "employees."
However, self-employed and employee realtors have two very distinct meanings in the eyes of the CRA. Here's their definition, "The CRA looks at the facts of the working relationship between the payer and the real estate agent".
A Realtor's tax hinges on how the CRA sees them. So let's dive into the factors that decide whether a real estate agent is an employee or a self-employed worker.
How to determine if a Realtor gets taxed as a self-employed individual or an employee?
A Realtor's tax when you are self-employed:
According to CRA, these factors determine if a realtor is a self-employed individual. The realtor …
Pays administrative fees:
The realtor pays a fixed amount to the real estate broker as administrative fees. These fees include desk fees, reception service, use of office facilities. Others are transaction processing, in-house accounting, etc.

Controls and establishes the rate of his/her commission:
The realtor has the right to decide whether he charges a 2%, 3%, 5% or 6% commission or whatever amount of commission he/she wants. He/she can even waive the commission if he/she chooses to.

Self-employed realtors can choose to make as much as they want or as little as they want. This means there's no minimum number of listings and purchases or dollar volume of sales self-employed realtors are required to achieve.

Pays for his/her own equipment:
The self employed realtors are in charge of all tools needed for work. This includes cell phones, personal marketing websites, cameras, signs, staging furniture, computers, etc.

Exposed to financial risk and pay expenses associated with their sales activities:
These expenses can include car insurance premiums and repairs. They also include professional liability insurance premiums, real estate association membership fees, etc.

Flexibility to hire help and build a team:
A self-employed realtor is free to hire administration staff, buying agents, selling agents, marketing team staff, etc. to help him/her to build his/her business. He/she is his/her own boss.

Self-employed realtors also provide equipment to their team members to work, most likely to have an office and have control over what they can delegate to their team members to work.
Generate one's own leads and covers advertisement costs:
A self-employed realtor is responsible to generate his/her own leads. He/she works to build relationships with clients. The realtor covers the cost of their advertisement, builds his/her team.
From the factors listed above, you can see that the majority of the realtors are self-employed.
As self-employed realtors, you can also deduct a bunch of expenses that you incur for the purpose of earning the business income. You can refer to this previous post regarding the list of common expenses that realtors can deduct.
Here's a Youtube video to discuss in depth what you can deduct as a self-employed realtor.
However, there are exceptions in this trade too, every once in a while.
Some builders hire licensed realtors to do showings or negotiate listing deals. Just as employers in any other field hire employees to perform specific duties. These duties are under the direction and control of the hiring party.
This happens in the case of new development… Builders may hire a realtor on staff in their office to facilitate sales. Depending on the form of relationship and the intention of both parties, on-site realtors can either be taxed as self-employed realtors, such as the one mentioned above, or as employees, as in the case listed below.
A Realtor's tax when you are an employee:
According to CRA, these factors determine if a realtor is an employee. The realtor …:
Isn't required to cover administrative costs:
The realtor is not required to pay any fee or amount to cover administrative costs. In other words, no desk fees, transaction costs, etc.
Retains a percentage of the realtor's sales:
Depending on the arrangement between the realtor employees and the employer, realtors may be offered a sales commission or an annual bonus to encourage sales effort.

Performance of specific tasks, at specific time and at specific location:
The employer requires the realtor to perform specific tasks. Such tasks include answering phone calls during a particular period at the office, performing showing activities, putting together purchase and sales agreement, etc.
In addition to that, the employer also has control over when and where the realtor employees work.
As an example, the realtor employee may be asked to be full time stationed at a sales office for a builder.
Supply of equipment
More likely than not, realtor employees are not required to provide equipment for work, although there are some exceptions. Employers are responsible for laptops, signages, websites, etc.

Cannot further outsource or delegate tasks:
Unlike self-employed realtors, real estate agents working as an employee has limited flexibility to outsource or delegate tasks to a third party.

Limited exposure to financial risks:
Like all other employees, realtor employees have limited exposure to financial risks. The employer is responsible for the cost of operating the business, paying the employees on time, and generating leads, etc. Realtor employees have a defined set of responsibility and deliverables and are not responsible for the financial health of the business in general.
As realtor employees, deductibility of expenses depends on your arrangement with your employers. Generally speaking, employees can only deduct employment related expenses if the employers issue a T2200 to the employees at the end of the year.
A Realtor's tax is definitely not as simple as the list of indicators above. The list is by no means exhaustive. However, these are the common factors that the CRA uses to determine a relationship between brokerages and the realtors that work for them.
You can use these factors to evaluate your personal situation to determine if you are self-employed or an employee
I do hope these factors helped you at least clarify the distinction between the two types and gave you a basic understanding of "what is a Realtor's tax?"
Best of luck this tax season!

Cherry Chan, CPA, CA
Your Real Estate Agent Accountant